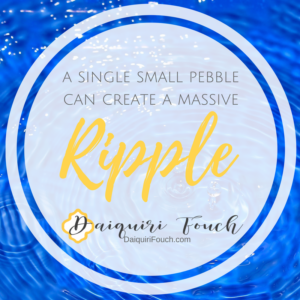 Boy, this rings more true right this second than it ever has before!
This is my business anniversary month, so I can't help but think about where I was when I started and compare it to how far I've come. How far WE'VE come. This is a team effort. This is a people business. A family business. A far-reaching international business that is literally affecting people all over the WORLD.
And that's just in my little organization….because of one little pebble….one little "yes".
One little "yes" set a massive ripple effect in motion that I certainly can't take credit for….any more than the literal pebble can pat itself on the back for being tossed into the water. I just took one leap of faith and counted on God to guide my steps through the unknown….and I'll be honest….I was scared! haha!
But now… mamas are home with their babies, missions are being funded, the hungry are being fed, homes are being paid for….THOUSANDS (so far) are finding the space to SPEAK their truths and to follow their Calling.
Families are living and dreaming in a space that is about SO MUCH MORE than just surviving day to day….they're thinking about what THRIVING might look like for them.
I just hardly have the words to express how blessed and humbled I feel tonight. I'm so thankful and honored to BE here!
And still….I drove my kids to school today. I worked out at the gym. I had lunch and did errands with a friend. I picked kids up from school. I drove kids to practice. I don't have to miss a single thing when it comes to my family….my most important and #1 priority.
So friends….I guess the takeaway is this….I will beat this drum about home business and entrepreneurship (particularly with this company) FOREVER. Because I want this kind of abundance and freedom for YOU too.
C'mon little pebble….let's take a leap! 
oxox Daiq