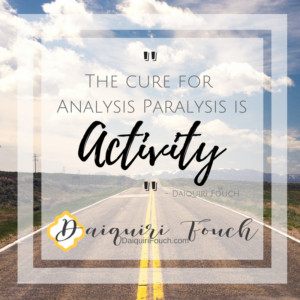 There's "thinking about it", and then there's "Analysis Paralysis".   Analysis Paralysis is what I call over-thinking…..you know, when you have a BIG idea…..so big that you feel like you almost can't get your brain around it?  Or, when you're faced with doing something that might be scary or bold or risky….but you're super excited anyway, so you get caught up in a brain loop of going back and forth?  Sort of the "good angel/bad angel" on your shoulders going round and round….and you sit there just feeling a bit dizzy? I know you've been there 🙂
Friends, the CURE to Analysis Paralysis is ACTIVITY.  
Take ONE step.
Make ONE call.
Speak ONE thought.
Write the post.
Make the earrings.
Sign the paper.
Hire the coach.
Join the class.
Take the photo.
Raise your hand.
Go.
Do.
Something….even if it's small.
Get out of the paralysis that comes with trying to think 15 steps ahead and JUST. GO.  And then do it again tomorrow! Before you know it, you'll be well on your way to your goal!
Where in your life are you paralyzed?  What is one small action that you can MOVE on TODAY to get you over this hump of "thinking about it" and into action?  GO!