Wholeness. What do you think of when you speak that word? Do you think "Yes, that's me", or do you think "Oh, I wish…"? A sense of fulfillment….wholeness….is part of what naturally comes as you step in to living your calling. I WANT that for you!
In fact, you will become so comfortable in your own skin, that others will notice. They'll ask you what's different…."did you change your hair?"…."have you been working out?" haha! But the ones who really know you heart and soul will just KNOW….this is something my husband said to me after I'd been working as an entrepreneur for less than a year, and he couldn't have been more spot-on: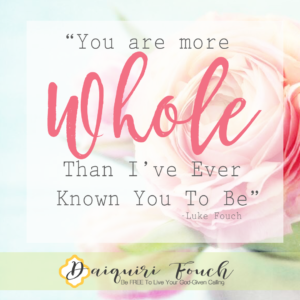 I wasn't making life-changing money yet. I wasn't yet the leader I wanted to be. But I had a clear sense of purpose and passion. I was excited to tackle each day. I had an unshakable belief that this entrepreneurial vehicle would get me where I wanted to be. Hope is a powerful thing, friends! My wholeness came from the hope and anticipation and excitement of the JOURNEY….not from having arrived (I'm still working on that).
What would bring you a sense of wholeness? What do you dream of doing? Do you have a clear path forward toward living your calling each and every day?
You deserve to be FREE to live your God-given calling, friends…..You deserve to be whole.