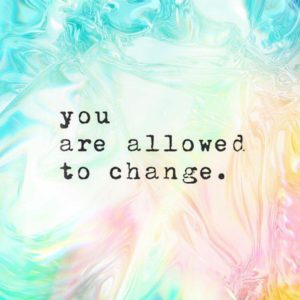 We moved a lot when I was a kid. Sometimes change was really hard…but there was always one thing I LOVED about the fresh start of a move….the freedom to reinvent myself
One move in particular…I wanted to dance??. I was always too shy to dance at school dances, but I really wanted to get out on that dance floor! So, when we moved to our next town/school, I made it a deliberate point to hit the floor as soon as the music started.
Instead of "wow, Daiquiri is actually dancing!", I was simply Daiquiri…and dancing when the music came on was just part of the whole package that was ME.
All those years, I'd felt STUCK because I let myself believe that what other people were thinking mattered more than my desire to be free…to dance!
What's really ironic? I NOW realize that no one was really paying me any attention anyway! They were all caught up in their OWN internal battles! What I thought was holding me back…was only real in my imagination!
Where do you want to change, but feel stuck?
Change the hair.
Change the job.
Change the clothes.
Take a class.
Call that guy.
Paint the wall.
Start the business.
Say yes.
Sell the house.
Take the trip.
Buy the shoes.
Go on the mission.
Be. Free! The chains are only in your imagination, after all!